ROADSIDE ASSISTANCE
STARTS HERE!
Towing services in Bristol County, MA
Welcome to South Coast Towing, your premier choice for Towing services in Bristol County and efficient Roadside assistance throughout the South Coast region of Massachusetts. Whether you're in need of a tow for your car, truck, or medium duty vehicle, we've got you covered. Our team of professional and experienced drivers are on call 24/7 to provide fast and reliable assistance when you need it most. Don't hesitate, give us a call now for all of your towing needs!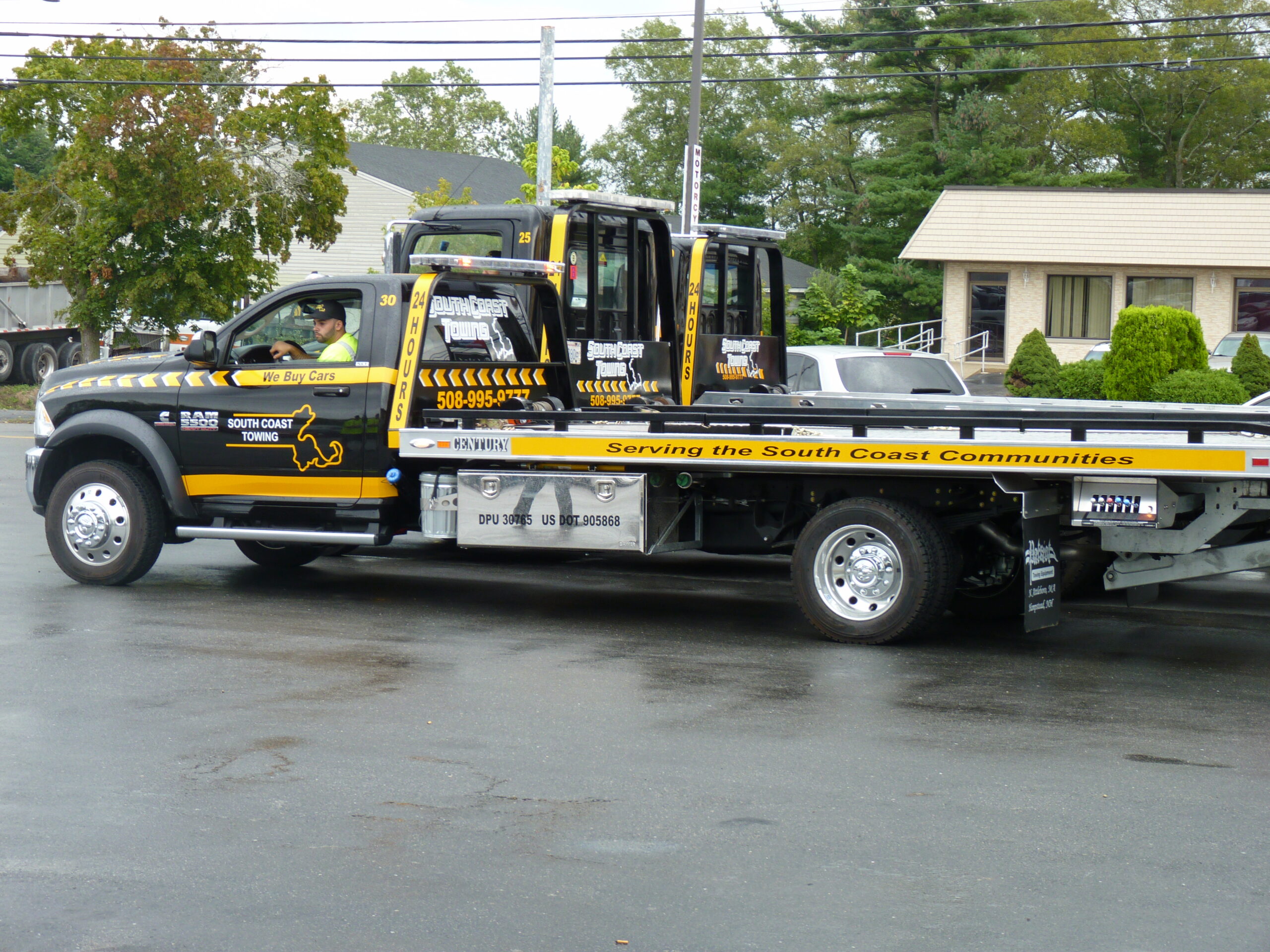 WHAT
WE OFFER
EFFECTIVE HOOK & FLATBED TRANSPORTATION
We provide fast, and courteous towing services in Massachusetts. We are fully insured and been in business since 1999. We are ready to respond to all your vehicle emergency needs 24 hours a day, seven days a week.
More than 

30 years of experience

Short arrival time of 45

 minutes or less

Honest competitive prices – 

zero hidden fees

Friendly and 

professional service

Available 

24 hours

 a day, 

7 days

 a week
Our Services –
Towing services in Bristol County, MA
At South Coast Towing, we offer a wide range of services to meet all of your towing needs. From local and long distance towing to accident recovery and heavy duty hauling, we have the expertise and equipment to handle it all.
Flat Tire & Lockout Service
Local & Long Distance Tow
Ask About South Coast Towing's Accident Advocate.
Looking for reliable towing services in Bristol County? If you've been in an accident and don't have the time or energy to navigate the claims process, South Coast Towing is here to help. Our experienced team can act as your "accident advocate" and manage your claim on your behalf at no personal cost. With us, you can focus on your recovery while we handle the rest. Check out our video below to learn more about our services and how we can assist you.
A Clean Sweep
Your motor club membership might cover your tow, but it does not cover the cost of cleaning up the accident scene. You may be responsible for this expense. Ask your tow operator.
File your Insurance Claim
Contact your agent, and discuss your policy 's fine print to learn if you qualify for reimbursed accident expenses. Hit by someone else? You 'll be dealing with their agency.
Tow your Vehicle
Tow your vehicle to a destination of your choice, or to one of our five secure storage facilities , where we preserve the value of your car and provide access 7 days /week.
Get a Rental Car
Your insurance coverage probably provides for a rental vehicle. Ensure you get the best vehicle to which you 're entitled. You paid for it, so you should get it.d tempor labor.